Are you looking for the best living room design ideas? The living area is the mirror that shows the reflection of our house. It provides a panoramic feel to our mood, style, and sensibility. What's more, it's a place where spend a lot of time, so we must make it more beautiful and relaxing.
Though, several people believe that doing any décor in the home is expensive and takes huge time. While this might be true in particular situations, there're several others where it's not.
For instance, there're so many thing amazing, yet simple and cost-efficient design ideas that can make your living area look more lavish.
To that end, ensure you check this best living room design ideas. These simple and  luxurious ways to décor your living room will help you to discover the potential your living area has.
Go With Light Colors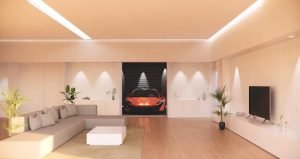 One of the first and the best living room design idea is interior color selection. Several of the painting services recommend light colors interiors, especially for living areas because they make a sense of harmony and openness. For some people, experiencing big rooms is reliving and it provides them a comfortable environment to spend quality time in solitude or with the company. The light shades can go well with dark shade furniture with crème upholstery.
Give it a touch of art
While other pieces of advice normally come with a practical side, art normally works for its own sake. Though wall painting for art's sake can be a lavish detail to pay for it, it's certainly worth it. This is because the art piece that you might include be it painting or a sculpture will surely provide a unique identity to your space. 
In other words, it'll make it more subtle, artistic itself, and certainly stunning! Not several details can so efficiently provide a lavish appearance to the living area that's a wonderful piece of art. Naturally, this doesn't mean that you've to have a portrait of the Mona Lisa in your living area, but it simply means that you can add handmade art, sculpture, or pot.
Window Treatments
What a living area is without window treatments? When choosing a material for the window treatments, you have to be wise and purchase the ones that don't only have elegant aspects, but also resist longer such as cotton or silk. If you are looking for best living room design, then go for fancy and a bit more modern or rustic, you'd pick wood or vertical Louvre blinds.
Install Bold Wallpaper
One of the many trends for decorating your living rooms includes wallpapers. Decorative wallpapers are one of the pieces that can simply venture with the renovations of your living area. Whether light or dark wall paint, you can easily install appealing wallpaper, mosaic, abstract art, etc. can go cool, bringing out an attractive contrast.
Chandelier Is Good
Chandeliers and lighting are other best living room design elements that bring out an inspiring touch in your living area décor. There is no need to install a heavy chandelier particularly if your living area is already crowded. Though attractive, it'll make room overwhelming and congested.
Install small or mid-sized ceiling lights or lanterns that come in beautiful designs. Make sure that they don't block the light and find the right spot.
Make Some Space
One of the most vital things to bear in mind is that you need not stuff your living area with items, furniture, and any extra that'd make your place look crowded. Keep in mind; you can still make a statement with a lower member of accessories elegantly placed.
Keep your people in mind. If you expect guests each now and then, you might want to consider adding a sitting arrangement. Though, if you seldom expect guests that it's okay to have a least sitting added with hanging or a rocking chair close to the windows that'd provide you a reliving place to spend your quality time in leisure. i hope you will have now best living room design ideas for your interior.
READ NEXT: Give Your Living Room A Trendy Modern Look
RELATED TOPICS: Living room interior design