Are you looking for staircase lights design? Here is a complete guide. One of the most important parts of interior designing is to give each space in your home its own identity and personality. Your staircase is one of the most important factors in your new design home. It makes the first impression, guides the way, and is a simple means of moving from floor to floor. 
lights design Ideas for Stairs – When it comes to staircase design, nothing is as important as the staircase lighting ideas. If you're looking for some ways to improve your staircase design, then this article is going to give you some valuable advice that can help you out.
Here you will discover some cool new ideas to take your new design home a step forward with some of the best staircase lighting ideas around. The staircase lighting is a key factor in designing a unique and smart ambiance with good decor. So, without further ado let's get started

Distinctive and Functional Pendant lights
Pendant lighting is one of the most popular staircase lights design ideas because it draws attention to the architecture of the staircase itself. You can use pendant lights to add a distinctive look to your staircase, while also providing functional illumination as they descend or ascend. They work well in just about any room of your latest home design but are especially perfect for a staircase that needs some extra sparkle or personality. These are especially nice if you have more than one level in your stairwell. In this case, you can line each level with pendant lights that match each other in style and color to create a cohesive look as visitors travel up or down your stairs.

Illuminated Imagination with Track lighting
Track lighting offers many options for customization and can be used to illuminate specific areas of the staircase or hallway. Consider a mix of track lights and pendant lights to provide both ambient light and task light.
Track lighting offers more flexibility than other types of lighting fixtures, making it ideal for use in areas such as staircases. Using track lights in this fashion gives you control over how much light is needed at any given time; you can have minimal light or more light when needed. 

Punctuate Each Stair Step with Under-Stair Lighting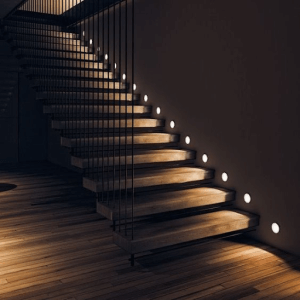 The simplest way to add some light to your staircase is by illuminating the underside of each step. It's a great idea for adding some subtle illumination to your staircase, especially if you don't have much headroom to play with. Alternatively, if you're going for a more minimalist look, under-stair spotlights can help make your staircase stand out against its surroundings.
You can use spotlights or LED strips to illuminate the space underneath in such a way that it draws attention to itself even while not taking away from the grandeur of the staircase itself.

Tall Candlestick Lights Accentuate the Railing
If you have an eye for classic designs, then you can use tall candlestick lights to accentuate your staircase railing. This is another Lighting design that most people use. They look great when coupled with traditional railings and will add just enough illumination for your family and guests to move around at night without disturbing others. These tall candlestick-style stair lights will definitely draw attention to the railing and make a statement. These lights would be perfect if you have family heirlooms or other beautiful pieces of art near your stairs that you want to accentuate.

Showcase the Work of Art with Sconces
If you have artwork on the wall leading up your stairwell, consider installing wall sconces to illuminate your pieces. Wall sconces are an excellent addition to any latest home design because they add soft ambient light that doesn't overpower a room or distract from the natural light coming through windows.

Spotlight on Style with Under Railing Light Fixtures
A flush mount under the railing light fixture is an excellent choice if you have a low stair height and are looking for an unobtrusive way to add light to your staircase. If you want more than just overhead lighting, consider using a flush mount fixture with downlights to brighten up the space and add some pizazz!

Get Artistic Balance with Recessed Ceiling Lights
One of the best ways for staircase lights design is to use recessed ceiling lights. They're an excellent choice because they provide adequate illumination while not taking away from the other design elements in your home. The right recessed lights will also offer plenty of brightness for a safe path down or up the stairs.
This lighting idea is especially helpful if you have a long wall that you'd like to highlight with artwork or other decorative items. You can use a recessed light every few feet along the wall to avoid creating too much shadow.

Add Some Sparkle with Crystal Chandeliers
A crystal chandelier makes an elegant statement in any room, but it's particularly striking when hung over a staircase. It's also versatile enough to blend in seamlessly with any décor style from traditional to modern, so you don't have to worry about it clashing the interior decor. 
In spaces where the staircase is a focal point, it makes sense to enhance its design with a statement lighting fixture. Stairs are the most important part of any house. It is the first thing people notice when they enter your home and the one thing that adds a different dimension to the interiors of your home. 
The staircase plays a very important role in adding style and character to your home, so it is important to focus on its lighting as well. Above are some staircase lighting ideas that you can use to transform your home.
Recessed ceiling lights, pendant lights, wall sconces, floor lamps, chandeliers, tall candlestick lights are all a great way to light up your staircase effectively. Choose whatever you like and it is possible to get these lighting options at very affordable prices. 
We hope that these lights design ideas will provide you with some useful tips on how you can create a beautiful lighting fixture for your stairs. Following along can add ambiance and personality to the staircase like the professionals.
Read Next: Designer lighting-everything you need to know!
Related Topics:Lighting ideas