Clothing racks look beautiful and work very well to manage the closet. it also helps you to give aesthetic room decor to a space. Closets are available in so many designs and sizes. Anyone can choose what one likes according to needs and space. Clothing racks are efficient in providing you with extra space within your closet. You can opt for a clothing rack in the closet or a walk-in rack. Let's discuss some rack designs that may help you in providing extra space.
Clothing rack with two shelves and hanger stand
In the markets, you may notice clothing racks with single hanger stand. But for use in homes, you can buy a clothing rack with two shelves and a hanger stand. These shelves prove very helpful in organizing the jewelry and other accessories. Folded garments can be best put here. 
The clothing racks with double shelves also have subtypes. You may find them with single, or two hanger stands. These racks give you extra space to hang your clothes according to their size and offer aesthetic room decor.
A clothing rack with one hanger stand in pearl white
A clothing rack looks so beautiful in pearl white. You can opt for this one to display your favorite accessories. It also works as a decorative ornament. Pearl white has an elegant grace in it. It may add delicate details to your interior design.  It may also work as a transparent canvas for your colorful dresses and accessories.
A clothing rack with top shelf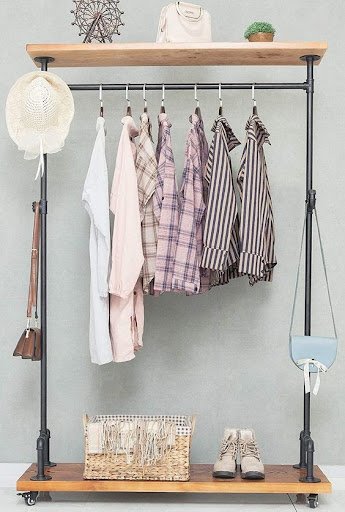 Another idea for aesthetic room decor is clothing rack with a top-shelf. It is also a good option. It can serve as a whole closet for you with having one or two hanging stands and a top-shelf. The shelf can be best used for keeping accessories like jewelry, scarves, hats and, folded dresses. The top shelf can also be used to keep other objects of need like your mobile accessories etc.
Double rod clothing rack with lower shelf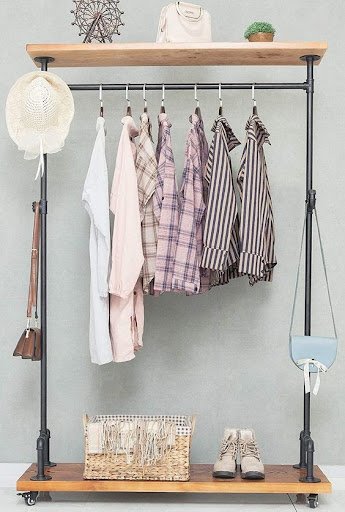 A clothing rack is very helpful in organizing your home decor items in a decorative manner. What else can be more beautiful than having an object of need as a delicate thing of beauty? A double rod clothing rack is also a good option. It provides you with double space for hanging your clothes. The lower shelf provides space for your shoes. You can opt for a walk-in clothing rack with two rods and a lower shelf. It will add to the beauty of your bedroom décor and, you can move it quickly from one place to another.
Metal clothing rack adds stunning beauty
Metal clothing racks are now in trend. These racks look smart and delicate. You can have customized hooks and hangers in these racks. It will give you extra space to hang your accessories easily. They take smaller space to be placed due to their metallic structure. You can polish your metal rack in the color of your choice. Extra shelves can also be added to these shelves. These clothing racks also serve as a decorative element. One more use of this clothing rack is to place it easily into your closet or place it in your bedroom as a walk-in rack.
Clothing rack with side shelves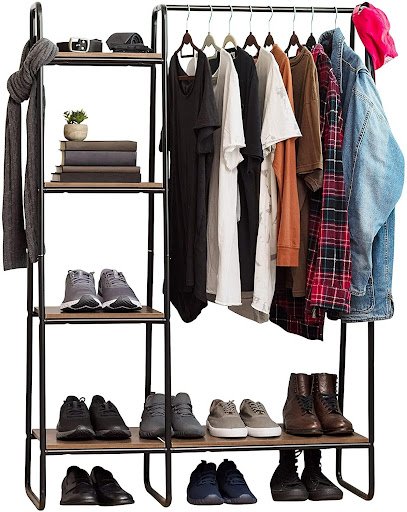 Clothing racks are good storage points. You can put so many accessories in an organized way. A clothing rack with side shelves helps a lot in managing various types of stuff. You can use side shelves to place different decoration pieces. You can organize your study material also through these shelves. These shelves look so stylish. You can place your jewelry organizer on here. Your jewelry organizer will make your rack more attractive. This multi-storage rack can easily be placed anywhere in your bedroom. It is truly a space-saving rack. Another advantage of this rack is that you do not need to rush here and there; you can find all the things of your need like dresses, shoes, handbags, and jewelry in one place.
Wall hanging clothing racks
Wall hanging clothing racks are suitable to save floor space as well as to give you aesthetic room decor. This type of rack gives you extra space to manage your garment stuff, and at the same time, you can use it for other accessories. People like it due to its space-saving quality. It covers less area due to be hung on the wall. Smaller bedrooms are good to be managed through these types of racks. You can choose any stylish design and considerable size for your bedroom according to your need. It will make your bedroom walls attractive and leave a good impression.
READ NEXT: Here's how you can Decorate Your Home with Beautiful Accessories!
RELATED TOPICS: Interior ideas for living room