In this modern era, people like their houses to be neutral, elegant, and sleek but there are people in the world too who want a classic old style. Grand millennial décor style is for people who have a passion for their culture and history. If you are one of them, adopt this style by using creative ways to feel comfort and coziness in your home using different wall decoration items.
A grand millennial décor style has a love for the past. It gives a warm, comfy environment with various designs, patterns, colors, and fabrics. You can create a modern and old vibe for your home by reusing antique objects from your grandmother's house. It adds a rustic character to your amazing house. 
The design patterns are considerably stuffy and outdated, inspired from the mid-20s to late 30s. Warmth, relief, and comfort are just a few words that come to mind when thinking of this nostalgic design. 
Ways To Achieve Grand Millennial Decor
If you are a grand millennial décor style enthusiast and want to add it to your lovely home, you can use these wall decoration items and creative ideas to make your home an even better place.
In any place, antique furniture is unquestionably a focal point. Decorate your grand millennial style with candle ware and other family antiques to make your grand millennial style even more personal. This style also emphasizes sustainability and the need to select high-quality furniture rather than the mass-produced items that everyone seems to have. Choosing objects that make us feel comfortable and welcomed is at the heart of this interior design style.
Grand millennial style is all about mismatching, and this is especially true when it comes to furniture. Keep hunting for antiques, unusual items, and furniture designs to win this style successfully. It gives your room more personality.
Add Ornate Frames To The Walls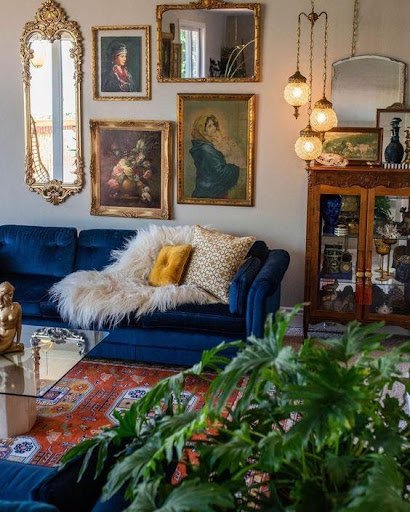 The next wall decoration items that we would like to include here are Ornate frames. These are significant in the grand millennial décor style. They are used to emphasize the significance of the artwork or image they surround. Using one implies that it is so valuable that no regular frame would serve. The use of multiple ornate frames in your home gives the appearance of an art museum or art exhibition. It looks elegant to use ornate antique frames with a mirror or an old photo than a typical one. It adds a bit more essence to the walls. 
Like the ones your ancestors owned, these frames may transport you back in time. If you have their original frames, you're in luck. They've come back into fashion in a great way. These frames are a must-have if you aim to achieve a grand millennial décor style. 
Good art isn't restricted to a frame only. A beautiful plate wall is the type of eye-catching wall décor that reminds us of old times. The days of letting our good china collection in the cabinet are long gone. People have rediscovered the delights of infusing colors and patterns throughout their homes in several ways. Decorative plates give our lives that additional dosage of beauty that we all want.   
It is a fantastic technique to reuse old plates rather than toss them away to attain a grand millennial style. It creates a welcoming atmosphere in your dining room. It's pretty elegant and serves as a unique way to decorate. Rather than utilizing traditional wall art paintings, consider using hanging plates to create a single focal point on your wall.
Choose Chintz-style floral décor
If you love flowers, you might like this type of wall decoration items in your home! Chintz is a printed multi-colored cotton fabric used for curtains, furniture, and wallpaper patterns. With flowery patterned things, you can create a warm and inviting atmosphere. You can begin with your chintz-floral wallpaper on your walls. This step will immediately create a grand millennial décor. 
Its brilliant colors and floral themes provide a special touch to your house. Use the same flowery fabric on the drapes and perhaps even some furniture to create a coherent effect. If you're really into this chintz vibe, go ahead and use the same designs for your walls, lamps, and headboards to create a whimsical appeal. Without being tacky, infuse your room with pretty flowers that would instantly give your house that grand millennial vibe.
Wrapping It Up!
The key to creating the grand millennial aesthetic in an eternal rather than outdated way is to blend it with a sleek touch. To avoid an overly crowded look, be sensible with your accessories. You can choose materials with vivid patterns, but keep the color palette tight and constant to create a layered, comfortable effect rather than a chaotic one. With the help of these highly recommended techniques and wall decoration items, make an incredibly cozy grand millennial-styled look for your home. 
READ NEXT: Some Important Tricks to Choose the Best Art for your Apartment Interior
RELATED TOPICS: wall decoration items