You always want a classy and elegant kitchen design for your home. It doesn't matter if you are a cooking fanatic or not. Choosing a Hamptons-style kitchen might be the best decision you ever make for your kitchen to make it look like heaven. 
The Hamptons-style kitchen design and Dining Design is a fashionable and sophisticated yet simple kitchen design. It is influenced by the lavish residences located along New York State's Hamptons shoreline.
Many people adore a Hamptons-style kitchen in their more modern home. modern interior design in the Hamptons style are typically airy, bright, and whitewashed. It has a classy yet cool ambiance that seems natural and peaceful. This is the reason why this style became increasingly fashionable. This Design Inspiration pays homage to historical aspects while being less ornate, blending in with the more modern decor. 
Ways To Create A Fabulous Hamptons Style Kitchen Design
If you're not a professional interior designer, getting that Hamptons aesthetic in your kitchen might be difficult. Even if you don't have any house interior design experience, you might be able to create the kitchen of your dreams with the following smart kitchen design and Dining Design Ideas.
Select the appropriate color (Plenty of white)
Merely adjusting a room's paint color to a traditional Hamptons color palette of soft white may completely transform the appearance of your kitchen. It might be tough to find the perfect white tone for your house. You have to narrow it down to a few options and try them in the light you have available, whether natural or synthetic.
White is the greatest color representing elegance because of its bright, reflected nature. Use liberally on cabinets, kitchen sinks, lights, and countertops. Additionally, using highlights in a neutral or pastel palette, such as navy blue, is a great way to create an airy, cheerful atmosphere.
Install Mirrors in The Kitchen
This is another cool step in creating a Hamptons-style Kitchen Design Ideas. With carefully positioned mirrors to reflect and extend your living area, you may double the space of your kitchen inexpensively. Using mirrors to reflect light on darker walls will quickly make your kitchen appear spacious. Mirrors also reflect natural and artificial light, creating a space that appears brighter at all times of the day and night.
The ultimate combination of elegance and efficiency is a butler sink. It comes in various styles, including some that are quite ornamental. However, the typical butler sink is white with straight lines and large basins. Consider matte black or copper for a little distinct flair that's a touch different from the standard ceramic sink.
Not only is their style appealing, but their size makes them quite useful for a variety of culinary tasks, from washing vegetables to scrubbing the largest pots or grill pans. Without a doubt, butler sinks can play an important role in designing an elegant kitchen for your home. 
Big Pendant Lights in Kitchen Design
Lighting and textured finishes are used in decorating ideas to provide layers to your home decor and enhance your Hampton style kitchen design. Lamps or lights are the quickest way to bring the mood to any area. If you choose the right light, it can also become a central focus of your décor. 
The best light to create an aesthetic look in your kitchen is the use of pendant lights. Both multi-light and linear suspension pendants over kitchen islands look great. They look best in kitchens with adequate space to accommodate a longer and more prominent fixture.
Make sure to use the correct bulb, such as an energy-efficient LED and dimmers, to modify the atmosphere to your liking.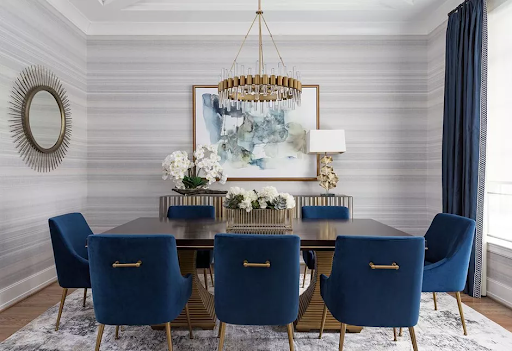 Island benchtops are a popular choice in Hamptons kitchens because they add a sense of spaciousness and relaxation. Due to its natural, elegant character, marble has always been the material of choice. However, engineered stones and solid hardwood timber benchtops function similarly and are more cost-effective alternatives.
When it comes to a Hamptons kitchen island bench, color is everything. The right paint and finish can transform even the most basic island into a work of art. Neutral tones are the perfect complement. They're vibrant enough to liven up the white while remaining subdued. Light tones of grey and powdered blues are excellent in this scenario.
Wrapping It Up
Hamptons style is the name of elegance, comfort, sustainability, and functionality. Creating a stylish Hamptons-style kitchen design can be simple with a little struggle and an appropriate inspiration. The design elements discussed above are what make a Hamptons-style kitchen stand out. Make your kitchen a welcoming space where the whole family cooks, entertain and spends quality time together!
READ NEXT: Essentials to consider before dining room furnishing
RELATED TOPICS: kitchen interior decoration