Have you planned your Christmas decorations yet? No? It's not that easy to adorn your house just before the day. If you are too tired to think of anything, you can consider using some highly trendy home decoration ideas to make your home pretty and welcoming for the guests. 
You can easily buy a single Christmas tree and decorate it with ornaments which is not much exciting. However, many of us have high expectations for our Christmas decorations. We don't want our homes to meet the bare-minimum level for the Christmas season. Make efforts to create your home completely stand out in holidays to look brighter and beautiful.
Trendy Christmas Decoration Ideas
There are so many Christmas decor alternatives to choose from. Decorating the same areas with the same decor, again and again, might get a little boring.  You can read the following trendy Christmas home decoration ideas that will help you adorn your home entirely.  
Twinkle Lights Is A Must-Have
Undoubtedly one of the trendiest things to decorate your home for Christmas is twinkle lights. A twinkle light is a light that flashes on and off to create a beautiful appearance. As the day grows darker, Christmas lights add a touch of charm, excite the hearts, and fill the whole house with delightful memories.
No Christmas home decor is perfect without a few twinkling lights. If you're asking how many lights are too many, the answer is that there isn't one. They're not limited to Christmas trees and fireplace garlands. You can hang these on walls as well. Using this trick, you can alter your dull house into a brighter and illuminating space. 
Christmas Trees – A Traditional Style 
How can a Christmas tree be outdated? A Christmas tree is an evergreen tree embellished with lights and ornaments as part of the holiday season. Fresh-cut, potted, or artificial Christmas trees are utilized as both inside and outdoor decorations. And is considered as the best home decoration ideas.
Christmas trees are available in several colors to create a more modern look to the house, but a traditional green color is always safe to use. For years, apple green was the color of choice, but now you're seeing more of that rich, dark emerald green. 
To upgrade your Christmas decorations, you can use a combination of soft muted metallics and mixed metals! Pale gold, champagne, and matte silver combine to create a sophisticated tone for your neutral contemporary house.
Adorn Your Walls And Shelves
There are always fresh and creative home decoration ideas to add life to your Christmas decorations. You can grab a roll of trendy wrapping paper and start covering the walls. It will make everything sleek and well-organized. Adding festive ornaments to existing wall art, such as framed portraits and faux fur, is the simplest way to make more of it. 
Make your bright Christmas cards a focal point on your bookshelves. A few brightly colored patterns on each shelf would be enough. Shelves, bookshelves, and wall mirrors will significantly play a role in decorating your home for Christmas. Just make sure you don't use any heavy decorations that might pull stuff off the wall.
The next and the best home decoration ideas is installing chandeliers. Who doesn't like a classy chandelier? Chandeliers with Christmas decorations are a quick and easy method to create an elegance that will significantly alter any space in your house. It will lighten up your atmosphere and add an elegant touch to the home. To convert it into a trendy fashion statement, you use tree branches, ornaments, pinecones, ribbons, and other Christmas-inspired decorations.
Festive Chandeliers are a terrific way to incorporate Christmas decor into your home. Install it right above your dining table to experience a more home-like feel with your family and friends. 
Garlands And Wreaths – A Great Choice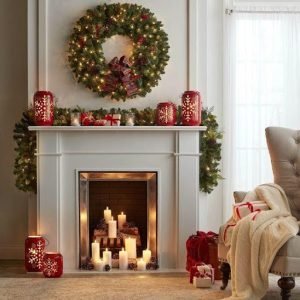 Garlands and wreaths are an excellent way to add greenery to your house. With more natural embellishments, they serve a lot to the home décor. A garland made out of mango leaves and flowers may be placed in the frame of a home's main door as a symbol of glory. Wrap a garland around a great light fixture to lend a festive touch to the ceiling.
Additionally, a lovely wreath in the shape of a star or a circle complements a garland placed over your fireplace. Your front door is also a great place for these pretty adornments. For a wintery touch, add snowflakes to it.
Wrapping It Up!
With these amazing and trendy home decoration ideas to embellish your home for Christmas, you can enjoy this occasion with delight, comfort, and extreme pleasure. You can use ornaments from previous years and reuse them for budget-friendly decor. Display your parcels and gifts around your Christmas tree and get ready for your Christmas morning that is full of celebrations and surprises!
READ NEXT: Some wonderful color combinations for christmas tree decoration
RELATED TOPICS: Home goods