France is known for its fashion, elegance, luxury, and high-end designs. And when it comes to home interior design, we are inspired by trendy yet essential and refined trends. French interior decor styles are a combination of rustic and sophisticated designs. 
Modern French home interior design prevail over the heavily decorated styles. People admire these styles due to their glamour and a touch of traditional methods. However, both are embedded in a unique way that the home conveys the overall feel of classiness.
It's fashionable because of its attractive appearance and comfy feel. Three qualities define the polished and historical style with a formal appearance.
Fabrics with delicate designs and subtle colors

Use of wood, as well as other natural things and materials

Furniture and accessories with a hand-painted or vintage look.
Color Shades and prints
Colors used in French-style interior decors have warm nature with medium intensity and soft hues—for instance, baby blue, warm yellow, pale pink shades. The fabrics used for such a provisional style home have deep and saturated colors. The brick, red and ochre-colored fabric reminds the inhabitants of the pigments of natural clay of the earth.
Add Modern vibes to the Old Mansion
The French-style interior decor has been changed and evolved during the entire history of France. Exquisite, luxury, splendidness, and refined taste are some thoughts that pop up in your mind when you think of French. French easily blends the old with fresh and new decorations, whether it is furniture, fabric, or overall mood and feel of the home. In simple words, the French interior decor style is bold and elegant yet kinky and personal.
Don't replace all of the furnishings to give your old house a new modern style; instead, merge the old with the latest and modify the general tone of the property to make it more elegant and sophisticated. Here are some ideas for making your old mansion stylish without detracting from its traditional appearance.
An elegant antique mansion with exquisite and trendy home interior design exemplifies the captivating French flair. To remodel an old mansion, you can use a variety of formats.
Modern French decors are more likely to be Parisian; Parisian decorating style combines classic elements with modern and exciting trends. People are already praising this decorative design for its sophistication. However, overly adorned residences are currently out of style.
Hanging ancient rugs on the walls is the most pleasing way to give your home a French feel. For a seamless aesthetic, those historical rugs should be compatible with existing materials.
Refresh the existing content
Update the furniture, fabric, and accessories to present your house with a classic yet modern vibe. You can also adjust the contemporary color scheme in French country home decors by modifying them.
The antique home has been transformed using modern design ideas that merge with rustic style and current trends. The symmetrical and magnificent interior designs are a fantastic source of inspiration for improving and refurbishing historic mansions.
Facade of Natural Stone
A plain but symmetrical stone or brick exterior is typical of French-style residences. You can enhance the charm of your old home by adding a touch of the stone face, which is a high-class style in modern homes. The color red when it comes to designing your home in a classically French manner, crimson is the color to go with. Darker shades of red are popular in French accessories, cloth, furniture, and other materials.
Floor made of wood and marble
The floors of French-style homes are made of wood or marble. Wood provides a welcoming and pleasant atmosphere that we all require in our living spaces. At the same time, marble conveys an air of refinement and sophistication. You can choose your flooring design based on the emotion you wish to obtain for your home interior design. Marble can reutilize in entrance lobbies, baths, and kitchens.
Furniture
The furniture is the most critical component of beautifying your home and making it more inviting to visitors. Consider updated furniture for your mansion if you want to bring a contemporary vibe to your French-style property. The furniture colors should be compatible with the existing designs.
Mantelpiece for the Fireplace
The fireplace mantelpiece is the best mix for exquisite designs in modern-style French decors. A marble or wood mantelpiece adds luxury to the living room and creates a dramatic effect. It's an excellent idea for giving your old houses a French flair.
Mirrors in the vintage style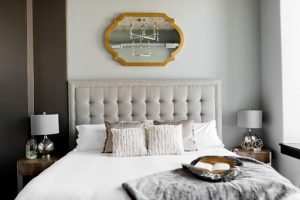 Beautifully framed distressed vintage-style wall mirrors elevate the sense of luxury. Such lovely mirrors are a perfect addition to any design. They are always in style and offer your vintage living area a traditional appeal.
Sculptures and art items
You can also redecorate your old house by adding wall paintings, various art objects, and sculptures. Furthermore, house plants in the living room provide the inhabitants with a lively feeling. Display a canvas artwork that corresponds to the concept of your home design. The kitchen should be updated with gastronomic art that evokes a sense of refreshment.
Lightings
Lighting is a timeless adornment that creates a warm and welcoming atmosphere in homes decorated in a rustic style. If you wish to remodel your property to a modern French design, lighting fixtures are the right fit for your old mansion.
Conclusion
If you want to build your home from the ground up or simply renovate it with some new and current designs, it requires your attention. The versatility of eclectic styles comes from the fact that you can add or delete components dependent on your design and mood. Add these modern feelings to your old mansion's designs to make it basic but sophisticated, classical but warm, elegant but natural. 
Your home interior design reflects your personality and impacts your emotions. Simply renovate your ancient mansion to make it feel more relaxing, fresh, modern, and elegant. If you don't like some of the materials used in the upgrade, simply replace them with something that fascinates you and gives your home a vintage feel in this current era.
READ NEXT: The best condo interior design ideas to make your home feel new
RELATED TOPICS: home interior design ideas