Creating a loft-style apartment design is the ideal solution for creating additional space, or transforming unusable spaces in the attic into a lovely home. If you already live in an apartment or townhouse with limited ceiling height or don't have the opportunity to expand your living quarters, a loft-style addition will give you all the benefits of a great attic apartment idea.
The Attic Loft collection is perfect for attics with sloping roofs or off-center walls. Using the loft's high ceiling, shabby chic style elements, and multiple small skylights, this line brings an authentic industrial feel to your space. Loft-styles are also great for apartment dwellers who want to complete their home with creative character that expresses their personalities. Creating a loft-inspired feel doesn't require expensive finishes or intensive carpentry work. Just select your favorite pieces, paint or distress them and that's all you need to create practical and attractive decor for your home or apartment design.
Skylight
For a distinct and stylish apartment design combine industrial finishes on ceiling beams and exposed rafters with color-changing LED lights. Add natural-wood paneling to the floor, walls, ceiling, and railings for rich warmth and soft light. Ideal for entertaining in a loft-style home design. The large windows bring in the bright outdoors, fully maximizing the light from the skylight. The natural light in an attic loft apartment not only adds to the attractiveness but also increases its value. Skylights often have the appearance of a large porthole with the light spilling out from behind them and making it a very interesting feature. Skylights integrate into the design of several other features that add to the interior design, including natural light and rustic finishes.
Wooden Boards
Wooden boards give the living room a warm and cozy feeling. Boards do not only provide a nice texture to the space: They are also a large-scale decorative element of this design. The use of wood creates an elegant look that blends apartment design beautifully with other elements in the room, for example, its ceiling and floor finish.
Exposed Brick Walls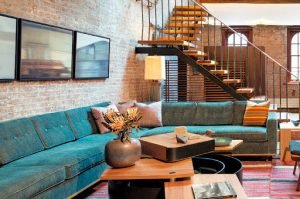 Are you looking for your apartment design fresh look that showcases the beauty of your home? When the brilliant colors of the living room are dominated by concrete ceilings and brick walls, a bit of wood can help to highlight the richness of the colors and create a warm atmosphere. The soaring ceiling with recessed lighting creates a sense of openness and peace in this room, which makes it the perfect place to relax with friends and family.
Kitchen Layout
A corner kitchen layout with a peninsula on one side and a bar counter on the other side shows a space-saving interior design. Unique lighting fixtures and ceramic tiles used for kitchen backsplash make beautiful accents and offer practical apartment ideas perfect for any interior design. 
The open-plan kitchen is the perfect choice for those who want to create extra space in their home. It has a wide variety of functional zones and an enhanced feeling of freedom and spaciousness. A bar table is a simple piece of furniture that can create a beautiful and elegant addition to your kitchen. The lower bar counter and bar table are great for morning coffee or evening work.
White Bedroom Design
Bedroom ideas for this space located within a larger apartment design are characterized by the use of light colors on the walls and ceiling. A small window on the slanted wall and the white walls help the space feel light and airy. A firm mattress sits on a platform bed, surrounded by the white decor and natural elements, like houseplants, fresh flowers, and wicker baskets. The room benefits from large windows looking out into the living area.
Red Bathroom Design
In a contemporary loft-style apartment, an accent wall in the bathroom draws color and texture into an otherwise stark design. Ceramic tiles, resembling concrete surfaces, and the glossy wall tile designs in scarlet red, add a bold touch to bathroom design and decorating, with contemporary flair. Whether you want to transform your guest bathroom from a boring space into a vibrant spot for your guests, or you want to give your home a unique and daring look, these small spaces can be transformed with the right artistic designs for bathroom styling ideas. Commercial grade ceramic tiles have been found to have certain benefits that accrue to residential spaces such as durability. These materials are resistant to some of the nastier elements of the environment while they are stylish and affordable in all type of apartment design. There are tiles that are even able to make mirrors safe enough for children's use.
READ NEXT: Luxurious Dress-up Ideas and Inspirations for Your Apartment
RELATED TOPICS: home interior design ideas