The area around the home is an essential part of your living environment. Thus, an attractive and functional landscape adds enjoyment to your life. People nowadays have more interest in landscaping, That is the reason they search for landscape design ideas every time. They desire to create a beautiful landscape that gives a sense of place and captures the prairie's essence. The conventional landscape is typically preferred by the people, including shrubs, flowers, trees, and structures arranged in numerous patterns. 
The best landscape designs can be made with adaptations in a design home using natural and human factors. Planning, designing, and managing are involved in successful landscaping for creating a specific environment. The house should be inviting, stylish, and comfortable. Perfect landscape ideas design your garden or any other places in your gallery design home as an expression of your lifestyle that also complements your interior design aesthetics. 
Style Options for a Pretty Landscape
For the last few decades, formal and informal landscape design ideas are more preferred. Formal landscapes are symmetrical and geometric, with structures and plants arranged precisely. In contrast, informal landscapes, including irregularly placed structures and plants, are more natural-appearing. Today, landscape styles are very much changed because people want their design home to look more social. 
The trends are shifted to naturalistic designs, which foster a greater appreciation for nature, and geometric designs with geometric forms of buildings and natural landscape characteristics. Therefore, if you are planning for it, you should consider some of the following landscape styles options are divided into categories; varying proportions of naturalistic and geometric patterns are combined in these. 
Geometric-Structural:

Primary one, minor role of plants.
Natural-Structural:

Water, rocks, plants, and earth forms dominate but have a clear sense of geometric arrangement.
Geometric-Natural:

Structure dominates, but plants and other natural elements are equally important.

Natural:

No apparent human-determined structure or form; only natural material and elements dominate. 
landscape design ideas for Your Landscape
Thoughtful landscape design ideas are roadmap to create an outdoor area with a subtle and comfy ambiance. Patience is the key to achieving the goals set several years before, through planting and constructing the specific area. Several things matter while designing an ideal landscape for your home. The first and foremost step is to hire a skilled professional. You must consider some important ideas before redesigning the landscape or making simple changes to it. 
Grouping Of Plants in a Planter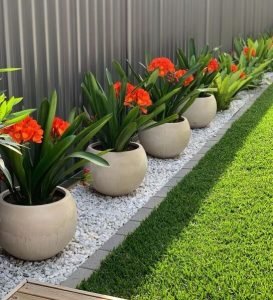 If you struggle to make a group of plotted planters look good, you should place all the small plants in a big planter. Planter boxes add a finishing touch to any garden and give an eye-catching accent by highlighting the seasonal beauty. Creative and fun planter boxes include wicker, terra cotta, vintage washtub, rain boots, wrought iron, wheelbarrow, chain frame, stock tank, and much more.  
Vines – Add-On to the Walls 
Vertically growing plants increase the ornamental beauty of your lawn. Some species grow rapidly, but some aren't suitable for every place. Wisteria, one of the best-known pea-like floral clusters having a purple shade, is the most commonly used vine. It's a great addition to your gate; it screens your entrance for privacy and adds romance to an arbor. Just like the front door of your house, the backyard gate should also look warm and welcoming. 
Sitting Area with Fresh Grass
Another landscape ideas for Sitting area in terrace, garden, or yard plays a pivotal role in designing an outdoor space in the gallery design home. The sitting area should satisfy your personal needs as for some people, this place is meant for solitude, while some take it for entertainment, family enjoyment, or outdoor dining design. Creating a perfect lawn can be exhausting as mowing, weeding, and watering is time-consuming. But it takes your lawn, terrace, or yard to a different level with fresh grass. Think of your lawn like a carpet underneath your feet, making the space cozy and comfortable for you.
Flowers and Trees In Between Concrete Walls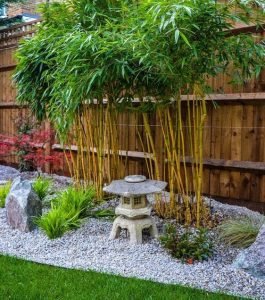 Concrete walls appeal to many people, adds privacy, and block noises. Therefore, if you have some concrete yard that can grow plants at home, you should make a landscape between them. Just add built-in planters that accentuate these concrete walls or elevate the mood with eye-catching flowers and trees. which are not a bad landscape ideas.
Conclusion
The home is an essential part of your life that adds value and enjoyment to life.landscape design ideas needs proper planning and careful consideration, you can create a sustainable landscape design in your home to decorate it more beautifully and stylishly. You should add quality plants for the new insight; a good theme should be followed so that your home design looks more attractive and welcoming. 
READ NEXT: Gardening Guide for small space-Start gardening now!
RELATED TOPICS: landscape design ideas