Interior designers are always on the serious lookout for the forthcoming big color trend. We know that repainting with an accurate shade palette can set the tone for your space and make you feel more connected to your abode. This year, we've picked up on a few stunning new paint colours ideas for home that will surely so trendy and beautiful, that we bet they'll be around for many upcoming years. Here's our list of top trendy paint shades!
White Works with Everything
White is the perfect backdrop for any design style you choose. If you love vintage furniture, it helps your unique pieces' shine. If you've got a collection of brightly colored accents, white walls help them stand out and make them look more vibrant.
White is also a great background color for displaying artwork and frames. Use it in your living room to set off a gallery wall of family photos, or use it in your kitchen to show off that beautiful new framed print you just bought. 
You can truly employ white as part of a two-shade color scheme to achieve depth and dimension to any room. If your living room has sharp edges or a boxy feel, try painting the walls white with dark red trim to soften the space and create a cozy atmosphere for entertaining guests. Or try painting your bedroom cream with white trim to make the space feel more luxurious and elegant.
If you're looking for a more rustic look, earth tones are where it's at. here are different paint colours ideas for home. From deep greens to terra cotta reds, these paint colors will make you feel like you're in a Tuscan villIf you're looking for something earthier, try going with an earth tone like brown, green, or tan. These colors will help create a cozy environment in any room, especially when paired with darker colors on the walls. If you want something a little lighter to balance out those darker colors, try going with a lighter shade of blue or even yellow for some contrast.
 The warm caramel color is a perennial favorite. However, in recent years, caramel paint has gotten more attention because it's become a trendier alternative to beige in many homes. This is particularly true for people who want something that looks white without making the room feel sterile or cold. 
Muted Gray Never Goes Out of Style
Gray has long been popular in interior design due to its neutrality. This year, muted gray is set to dominate over more intense grays that have been popular in past years. Muted gray pairs well with most colors, especially bold colors such as blue and green, making it an excellent choice for both wall colors and trim colors. Of course, muted gray looks best when paired with ceilings painted in a similar shade.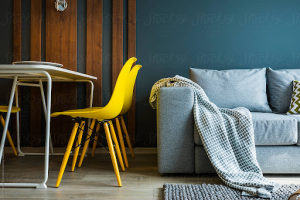 Moody blue is one of the favorite paint colours ideas for home trends for 2022. Because it offers so many possibilities! The dark blue hue is perfect for creating drama and depth in almost any room, especially smaller spaces that need something bolder than traditional white walls. It also works well with neutral tones like gray or beige, which means there's, even more, you can do with this versatile shade!
It's a great alternative for the navy but still has the same timeless look as navy. It's not quite black, but it does have a bit of a charcoal look to it. It's very sophisticated, and you will love that it doesn't feel too cold.
Bold Blue Is Here to Stay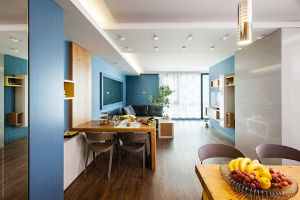 Another top trend is the bold blue paint color. This rich tone has been around since last year and shows no signs of stopping anytime soon – but it's not just limited to bedrooms or bathrooms anymore! Bold blues work great on walls as well as kitchen cabinets because they add an instant pop of personality without looking too busy or overwhelming.
Greenish is the New Black
Green has repeatedly been a popular shade, but we're seeing this rich hue trend more and better. Why? It's versatile, deep, and will be mixed in many different ways. You can use it as an accent pallet. We've seen clients go with a deeper, hunter-green shade for a living room or den, and then paint entire bedrooms with a light, minty green. Either way, you choose to use it, green is the new black.
Black is often overlooked for painting projects, but it's really making its mark in homes! It's bold, daring and very fashionable. If you're looking for a contemporary style, black walls are anything but not boring. A lot of homes have neutral furniture and accents, so black walls provide a fantastic choice to inject some pop into the area. Black also works in bathrooms or kitchens in case you like to give a place a very modern look.
The Takeaway
If you're seeking for paint colours ideas for home. Here are some guide to redo the home decor, spring is just around the corner. That means it's the perfect time to start planning a fresh coat of paint.
When it comes to home design and decorating, there are always changing trends. What was once common is now something of the past, and what is new today will be old news tomorrow.
Interior Designers have a good eye for upcoming trends, and they always like to keep their clients on the cutting edge. 
What Color Should Paint Your Abode?
Picking up the best paint hues for any place can be an overwhelming task unless you know what you like the most. Most people need guidance when it happens to select the perfect paint colours ideas for home. Now is the time an interior designer can assist you to repaint a space that reflects your decor sense and preferences. It's important to go with a hue palette that labors well with your decorating style. The above-mentioned tips will help you choose the right paint colors for your home. 
READ NEXT: Living room interior design and furniture ideas
RELATED TOPICS: home interior design ideas