The Kitchen Design is the place where you spend a considerable amount of time in a day. The design of modular kitchen is full of the vessel and so many jars of spices. Everything needs individual attention to organize in a good manner. There are so many kitchen and Dining Design Ideas that can be used to make storage space maximum for a well-organized kitchen. Storage space matters a lot in a kitchen as it has a wide variety to be stored from food items to vessels. Let's discuss some useful tips to make storage space wider.
Use customized storage furniture
Do try to imitate all the storage Kitchen Design Ideas together. Keep in mind that every tip does not work the same for all. You have your type of kitchen and some unique needs. Some tricks can be applied generally on every kitchen but most of the time you have to be careful about your personal needs when intending to apply any of them.
Storage furniture largely depends on the size of a kitchen and Dining Design . You can have wider cabinets and racks in a bigger kitchen, while you have to make many divisions even in a single cabinet to utilize it for keeping various types of kitchen items. Besides shelves and racks, a bigger kitchen can bear an extra storage table but in a smaller kitchen, you have to make portions within the storage furniture smartly.
The next important point when arranging the storage furniture for your kitchen is that you should keep in view your family size. A big family needs more kitchen items so should have more storage space than a smaller family.
One more important thing is that you have to keep in mind that kitchen storage furniture is very important in making a house interior design attractive or dull. You can use the material for the storage furniture you like most. There is a great variety available in the market. You may choose according to your choice and fix them in your kitchen. Here are some types of materials that are used in kitchen storage furniture.
Cherry wood storage furniture gives a reddish tone to your modern interior design. It looks so beautiful and gives a wonderful shine. It is costly than other types of woods but gives a wonderful expression of elegance to the design of modular kitchen.
For durable kitchen storage furniture, solid wood is a good option. It is long-lasting and looks very beautiful.
Oakwood is mostly used to make kitchen cabinets. Oakwood has two main shades red and pink. Both have their beauty.
Put every food item in glass jars

Glass jars may help you a lot in making your storage well organized. Not only spices can be put in the jars but you can store almost all types of food items in these jars. Transparent jars will make it easy for you to pick up the right ingredient you need without any confusion.
One more advantage of storage glass jars is that they are easy to clean and friendly to hygiene. You may find them in every size and shape easily in the market. Their cost is also not that high so you can invest without any financial threat.
Utilize under the sink space
Every kitchen Design Inspiration has a considerable space under the sink. You can use this space to store many kitchen objects. You can put cleaning solutions here or you can place here the objects of less need. One more good option is to put an extra amount of kitchen items here, that can be picked up when you need them.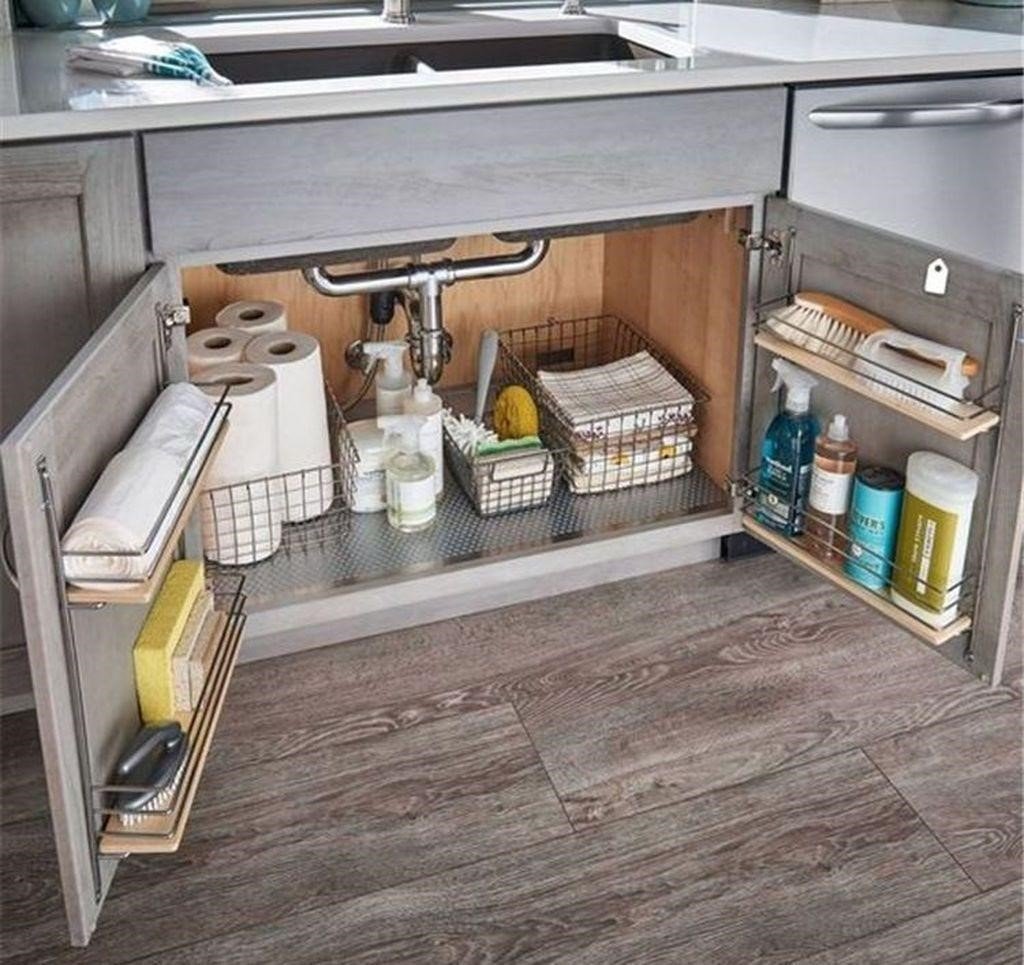 Use glass, plates, bowls and spoon holders and hooks
Some kitchen items are used again and again in a day. Many of us feel inconvenient to place them in the cabinets or drawers. Glasses, plates, bowls, and spoons are some essential items for every time use.
There is a range of holders and hooks are available in the market for this purpose. Everyone likes to use wine glasses but they need extra care. You may have a variety of wine glass holders to place in your kitchen. These holders will protect your wine glasses and make it easy for you to avoid any mess in finding the right place for them in your cabinets.
Plates, bowls, and spoons are needed very often in a kitchen. Trendy hooks and holders are available to hang cooking spoons on the walls. Similarly, stylish plates and bowls holders are also in trend to make a cool storage appearance in design of modular kitchen.
READ NEXT: 5 Clever Ways To Create A Stunning Hamptons Style Kitchen
RELATED TOPICS: kitchen interior decoration